The University of Central Florida and HCA Healthcare's application for a new teaching hospital in Lake Nona give a first look of the new facility and the medical spaces it will create.
#Tavistock Development Co. is seeking approval to build the UCF Lake Nona Medical Center, which will include a three-story teaching hospital with 64 beds and shell space for another 16 beds, a 60,000-square-foot, three-story medical office building, a power house for utilities, a helipad and 592 parking spaces.
The plans, which are waiting approval for the first phase, show that #UCF would later expand the first floor of the hospital and build a future bed tower.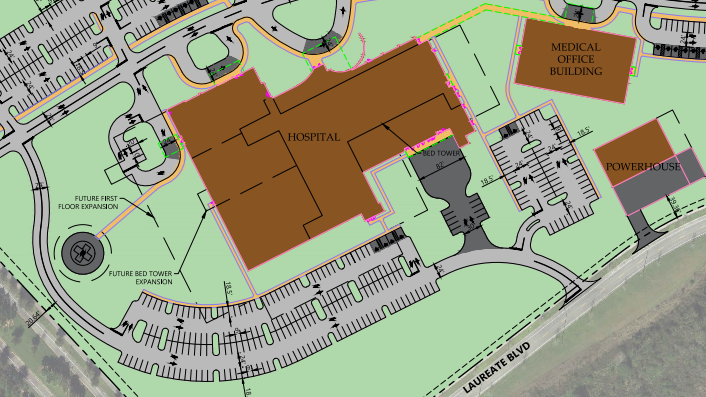 The hospital is slated to open in 2020 on undeveloped property adjacent the UCF Health Sciences Campus currently used for agricultural purposes.
The hospital would sit between the UCF medical school and the building housing the Sanford Burnham Prebys Medical Discovery Institute at #Lake Nona, which UCF plans to take over once the institute vacates the property. UCF has waited for nearly a decade to establish a teaching hospital.
"Every great medical school has a teaching hospital, and great hospitals are affiliated with top-notch medical schools. If you're sick and have exhausted all the treatments of your local hospital, where do you go for the next level of care? Many people say Harvard, Johns Hopkins, Stanford, Cleveland Clinic. All of those are teaching hospitals," Dr. Deborah German, UCF's first dean of the College of Medicine in Lake Nona, previously told Orlando Business Journal.
Once completed, the hospital will be a living/learning lab for training medical, nursing, physical therapy, pharmacy and social work students in teamwork skills and communication.
The main access to the hospital will be provided from Lake Nona Boulevard with secondary access points from Laureate Boulevard, Humboldt Drive and #Medical City Drive.
http://weknownona.com/wp-content/uploads/2018/03/ucf.jpg
366
552
WeKnowNona
http://weknownona.com/wp-content/uploads/2016/03/lake-nona-homes-for-sale.jpg
WeKnowNona
2018-03-08 14:11:23
2018-03-08 14:11:24
Lake Nona teaching hospital plans reveal future expansion