It's best to use a golf cart to motor around New York-based KPMG LLP's future 780,000-square-foot Lake Nona campus.
The titanic #KMPG Learning, Development & Innovation Center at Lake Nona — spreading out over 55 acres — already towers above the tree line despite still being built in the fast-growing southeast Orlando community. The $450 million project, perhaps the most significant in Lake Nona, is so large that 250,000 cubic yards of dirt were moved during early site work — enough to fill 76 Olympic-sized swimming pools.
The structure, which when completed will bring about 800 KPMG staffers on-site per week for training, topped out Aug. 8 after breaking ground in May 2017. Before the ceremony, Orlando #Business Journal stepped inside the unfinished building to take look at its development.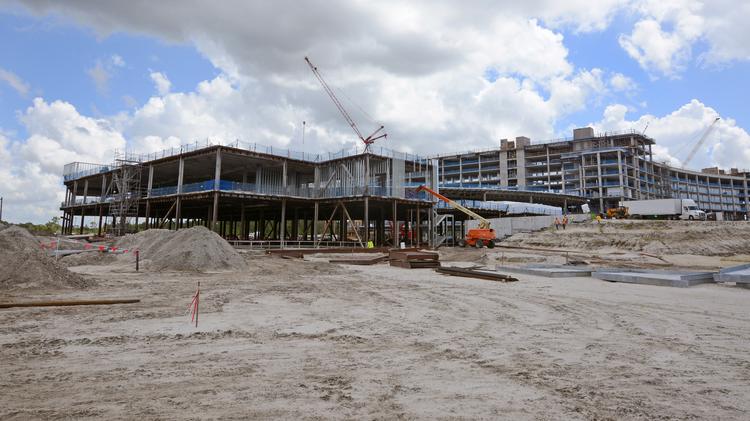 Workers are sprinting toward a late 2019 completion, as the training center is expected to open in January 2020. See the photo gallery for a closer look.
Most of the building's skeleton has been erected, and future spaces have started to take shape. Rows of classrooms with 14-foot-tall ceilings are visible in addition to most of the 800 single-occupancy guest rooms and other learning and innovation spaces. A trip down unfinished halls reveals multiple, two-story communal lounges, which are aimed at fostering collaboration among the trainees. Most spaces around the facility encourage socializing. For example, KPMG workers won't have access to refrigerators in their room, in the hopes that they'll mingle in shared space
Outside of training and socializing, the building also will feature eating spaces, like a pizza/pasta station and a wine bar. The facility will house a 15,000-square-foot fitness center in addition to a bevy of outdoor spaces.
#Construction is expected to start soon on a town hall center that can seat about 1,000 people and can be further subdivided for smaller events. A separate 15,000-square-foot social venue/pub also has yet to start construction.
From the top floors, Lake Nona can be seen above the trees and a crescent shape to one side of the facility offers views of nature behind the back of the facility.
Despite being so large, the site will hold about 350 parking spots, since most of the people parking will be staff. Shuttles will eventually run employees between the training center and nearby Orlando International Airport.
"Building on our culture of continuous learning and our nationally recognized learning and development program, the new facility will integrate leading-edge design and technology to help prepare our professionals to deliver new business models and breakthrough solutions for our clients," KPMG CFO David Turner said in a prepared statement. "This project represents a significant investment in our exceptional professionals and the future of our firm."
http://weknownona.com/wp-content/uploads/2018/08/KMPG.jpg
1050
2000
WeKnowNona
http://weknownona.com/wp-content/uploads/2016/03/lake-nona-homes-for-sale.jpg
WeKnowNona
2018-08-08 11:45:15
2018-08-08 11:45:15
Step inside the KPMG's $450M training center in Lake Nona