One of Orlando's largest and most game-changing real estate projects appears to be getting closer to its grand opening.
Seattle-based e-commerce behemoth Amazon.com Inc. (Nasdaq: AMZN) is scheduled to complete its 2.3 million-square-foot, four-story fulfillment center in southwest Orlando's #Lake Nona community in this year's third quarter. The massive warehouse on the growing west side of Lake Nona near Orlando International Airport created about 1,200 temporary #construction jobs. When completed, it will employ more than 1,500 — with up to 2,500 employees during the holiday season — who will have a chance to engage with Amazon's high-tech robotics.
The $132 million project also solidified Orlando as an emerging statewide logistics hub. Once Amazon signed on, several local real estate agents pointed to increased activity from other companies interested in bringing the new "mega distribution center model" to the region — which creates thousands of jobs and can change the community's landscape.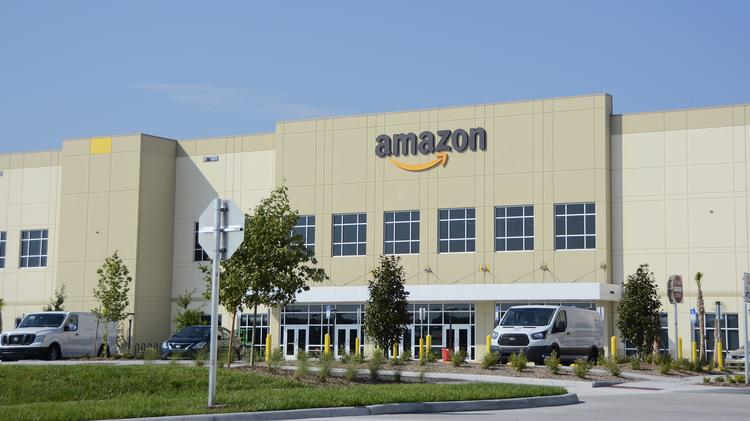 Plus, Amazon is yet another high-profile tenant joining the Lake Nona lineup, along with audit giant KPMG LLC and the U.S. Tennis Association, among others.
"Having Amazon involved certainly makes industrial — which hasn't always risen to the top — more interesting," John Pottinger, commercial development director for Lake Nona developer #Tavistock Development Co. LLC, previously told Orlando #Business Journal. "This sophisticated fulfillment center routinely will employ more than 1,000 people day in and day out … and will impact Lake Nona and Orlando's jobs, retail and housing. It fits nicely into our overall plans and ambitions for Lake Nona."
The Lake Nona project earned top industrial deal honors in OBJ's 2018 Structures Awards.
Amazon's 50-foot-tall Orlando fulfillment center is composed of concrete tilt walls with the textured coating, aluminum storefront windows, and metal composite canopies, public documents showed. Here's what else It will include:
2,500 parking spaces, 36 accessible-parking spaces, and eight motorcycle spaces
Administrative offices
417-person break room
A total of 64 9-foot-by-10-foot overhead doors, two 14-foot-by-16-foot drive-in doors
263 tractor-trailer parking spaces
A dedicated compactor
This is part of Amazon's nationwide expansion strategy as it looks to provide same-day delivery in more places — and it chose to build a fulfillment center in Orlando without being awarded economic-development incentives.
Address: 12340 Boggy Creek Road, Orlando 32824
Timeline: The 130-acre site was purchased and early construction work began in July 2017; the building was topped off in November 2017; completion scheduled for third-quarter 2018
---
Amazon fulfillment center
Address: 12340 Boggy Creek Road, Orlando 32824
Timeline: The 130-acre site was purchased and early construction work began in July 2017; the building was topped off in November 2017; completion scheduled for third-quarter 2018
http://weknownona.com/wp-content/uploads/2018/07/amazon-1.png
314
642
WeKnowNona
http://weknownona.com/wp-content/uploads/2016/03/lake-nona-homes-for-sale.jpg
WeKnowNona
2018-07-24 07:32:13
2018-07-24 07:32:13
Amazon to deliver its Lake Nona fulfillment center largest industrial project