#UCF is putting more property into play for a new teaching hospital it's building with Hospital Corp. of America in #Lake Nona's #Medical City.
The UCF Board of Trustees on June 20 approved assigning UCF's option to buy an 11.4-acre site on Lake Nona Boulevard — which is adjacent the 25-acre parcel already set aside for the UCF Lake Nona Medical Center teaching hospital — to Central #Florida Health Services, a joint venture between UCF and Nashville, Tenn.-based HCA (NYSE: HCA). The option, which is set to expire on June 25, would allow completion of the planned hospital campus and facilitate future growth, documents showed.
Central Florida Health Services would buy that parcel for about $6.8 million, or $600,000 per acre, from #Tavistock Development Co. LLC's related Lake Nona Land Co., documents showed. The land is now appraised at about $10.4 million, according to Orange County records.
The purchase is expected to close by the end of June.
"We are thankful to the trustees for giving us this opportunity to acquire more land for the UCF Lake Nona Medical Center. The approval provides space for a growing hospital – and more equity for UCF," UCF College of Medicine Dean Dr. Deborah German told #Orlando #Business Journal in an emailed response. "We are eager to open this university hospital for our community, patients, physicians, researchers, and learners."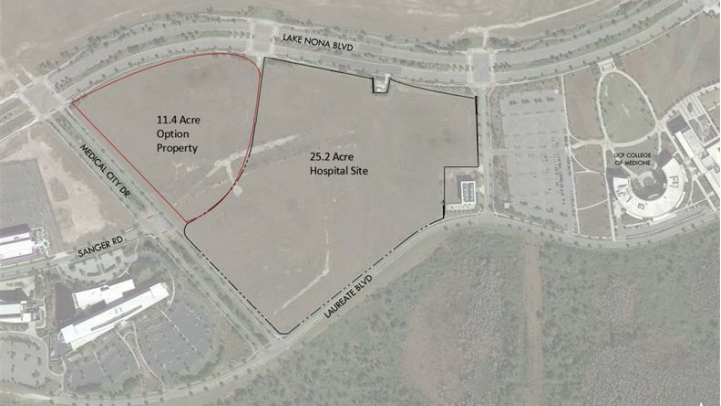 The first phase of #construction on the 100-bed UCF Lake Nona Medical Center is set to start on Oct. 25, and the property will open in 2020 next to the UCF Health Sciences Campus, between the UCF College of Medicine and Sanford Burnham Prebys Medical Discovery Institute at Lake Nona. UCF plans to take over the Sanford Burnham's assets once the institute vacates the property.
The university also is considering relocating its nursing college to Medical City.
Meanwhile, the new UCF Lake Nona Medical Center will help fulfill German's goal of creating an environment that includes a great hospital affiliated with a top-notch medical school. The hospital will be a living/learning lab for training medical, nursing, physical therapy, pharmacy and social work students in teamwork skills and communication.
"If you're sick and have exhausted all the treatments of your local hospital, where do you go for the next level of care? Many people say Harvard, Johns Hopkins, Stanford, Cleveland Clinic. All of those are teaching hospitals," German previously said.
The UCF Lake Nona Medical Center also will address a serious statewide lack of doctors. The Teaching Hospital Council of Florida and the Safety Net Hospital Alliance of Florida forecast that the state will have a shortage of 7,000 physician specialists by 2025. UCF started building residency programs a few years ago to address the shortage and now has 255 slots and expects to have more than 560 by 2020 through the partnership with HCA, German has said.
http://weknownona.com/wp-content/uploads/2018/06/ucf-partner.jpg
334
604
WeKnowNona
http://weknownona.com/wp-content/uploads/2016/03/lake-nona-homes-for-sale.jpg
WeKnowNona
2018-06-22 07:32:46
2018-06-22 07:33:39
UCF-HCA joint venture secure more land for Lake Nona teaching hospital