#Orlando-based developer Ponte Health Properties LLC wants to create what it calls "Vertical #Medical City" in #downtown Orlando — a $1 billion three-tower complex.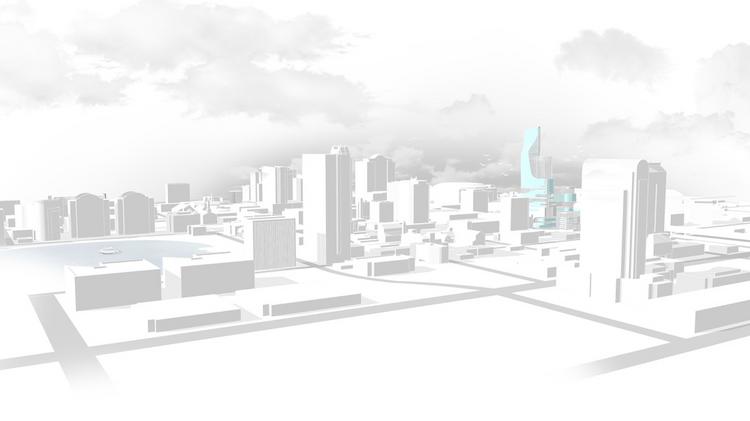 The proposed, privately-funded development would deliver medical services for people age 60 and older, ranging from preventive to critical care and assisted living.
Conceptual renderings show three connected towers with a total of 2 million square feet, and one of the towers would be 550 feet tall, which is 100 feet bigger than the SunTrust tower.
One of the towers would be for urgent care, surgery and recovery. Another would be for assisted-living for those age 60 and older, and the third building would be for physician and clinical offices. #Ponte Health wants to have studio apartments for physicians and registered nurses as part of the project, as well as meditation gardens and a nutritional center.
"Six weeks ago, we didn't know we were going to be building this project," Ponte Health founder Tabitha Ponte told Orlando Business Journal. "It was not intended to be a full-scale development. It was an exercise to see the capabilities of our group for creating something like this for Chicago. But as we progressed and presented our project to health care professionals, we started receiving interest and we explored it."
Ponte estimates the project will create more than 1,000 jobs, and she expects it to have a $2 million-$3 billion annual economic impact, based on similar health care developments.
The company, which is seeking an equity partner, said "a major health system has stepped forward with intent to lease one of the three towers" and operate the emergency and surgical part of the project, but Ponte declined to reveal the identity of the medical partner.
Orlando Health, Florida Hospital and Lake Nona's GuideWell Innovation Center, which is where Ponte Health has its office, all told OBJ that they are not involved in the project.
Ponte Health currently is looking at building the project on the surface parking lot at 110 W. Jefferson St., according the city of Orlando. Nothing formal has been submitted to the city regarding the Vertical Medical City at this time, although the city has received two conceptual photos and an inquiry.
Ponte said she also is looking at several other downtown sites and will need just 1.5 acres to build on, and she wants to close on a site within the next 90 days.
Ponte Health also has considered building the complex near the future Lake Nona teaching hospital that will be built by the University of Central Florida and Hospital Corp. of America (NYSE: HCA), but Ponte has not talked to #UCF or Lake Nona developer Tavistock Development Co. about that idea.
If the development does get built in downtown Orlando, it would be between the Florida Hospital and Orlando Health downtown campuses, but Ponte said the new Vertical Medical City wouldn't compete with them. "We are doing something different; it's a particular demographic we are serving. My scale would be significantly lesser and specialize in a hospice and assisted living. I'm trying to create an experience for a demographic that's not currently being taken care of. It will be a contemporary experience — modern with extensive green spaces within the building itself. I want it to feel like you're still outside."
She said the project also will also be high-tech with artificial intelligence systems and other technologies to help patients. "When I was a hospital patient after suffering a small stroke, I kept thinking, 'Why is the building not helping me?' That's what's really driven this company and project — our intent about the building helping the patient."
Ponte said the group has a Feb. 8 pre-application meeting with the city of Orlando.
Here is the projected timeline of the project:
Approval for development: Summer/fall 2018
Foundation/site package: Spring/summer 2019
Break ground: Fall/winter 2019
Building package: Spring/summer 2020
Vertical construction: Winter/spring 2020
Construction completion: Winter/spring 2023
Occupancy: Summer/fall 2024
http://weknownona.com/wp-content/uploads/2018/02/ponte.jpg
336
600
WeKnowNona
http://weknownona.com/wp-content/uploads/2016/03/lake-nona-homes-for-sale.jpg
WeKnowNona
2018-02-08 16:26:28
2018-02-08 16:26:29
$1B 'Vertical Medical City' downtown Orlando